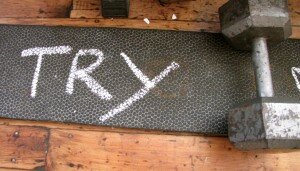 I'm joining the CrossFit Open again. I'll probably be in the Open until I die, tossing aside a cane to throw myself up on the pull-up bar, and overhead squatting my walker. I'm just that way. Stubborn and aggressively optimistic.
The Open is fun. It's wild and crazy and so full of enthusiasm that it makes you wonder for our sanity. "7 minutes of burpees? Ok!" I did that one last year, after three days of a horrible stomach virus that left me sleeping on the bathroom floor. But I wasn't going to miss the start of the Open. I dragged myself to the box, and for seven minutes, threw myself down on the ground and then got back up. Then I turned some horrendous shade of grey, and spent several minutes in the CrossFit Santa Cruz parking lot, trying not to throw up. Good times.
And that's what's wrong with us, right? This is the kind of story we remember. These are the things that make us happy. Sure it's fun to see who leads the Open, like it's fun to watch the real beasts of your gym do incredible shit, but it's the stories of perseverance, drive, and hope in the face of bad odds that make us smile and be proud to call ourselves CrossFitters. It's competing, even when you have no chance of winning. It's putting yourself out there. Having heart, in the face of a world that seems to want to stomp it out of your chest.
CrossFit isn't just a workout, or a movement. It's a warrior cry on a windswept plain when the enemy is all around you. And that's kind of cool.
So, I'm joining the Open again this year. A 47-year-old woman with a couple of body parts that have seen better days. (I'm talking about my knee and my shoulder. AHEM. Get your mind out of the gutter.) I'm not fast, I'm not agile, but the squat is my best friend. So, I'm plunking down my $20 today and I'm taking my place in the ranks. Join me. We're going to have SO much fun.